11 Cool Valentine's Day Gifts for Kids
February 14th is traditionally the day to show your loved ones just how special they are to you!
So if you are looking for Valentine's day gift ideas for your kids here are some super cute Valentine's themed gifts suitable for children.
1) The Cutest Dinosaur Valentines Card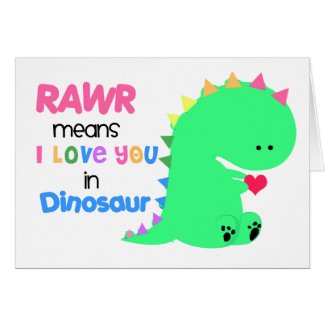 This RAWR Means I Love You in Dinosaur Card by Bunnieclare would be great for a boy or a girl.
2) Puppy Love
And they called it, Puppy Luurve! This desperately cute Honey Bun Dog with Heart's big eyes and heart say it all.
3) The Power of Love
This Dual Heart iPhone Charging Cable means that you can charge up two devices for one socket. Any gadget freak would love that.
4) Words of Love
Or at least you can keep your pens safe with this Make Your Own Heart Pencil Case with this fab kit from The Works.
5) Love is Noted
This Fluffy Heart Notebook Jotter is from Smiggle, who make the most adorable stationary.
6) Love is Sweet
OK, so this is only Valentine related due to the heart shape on the bag of this Strawberry Flavoured Soft Eating Liquorice. It is also red. Makes a change from chocolates, eh?
7) Quackers About You
This would be great for kids of all ages. The Hearts Duck Toy is free of toxic ingredients and CE marked so is suitable for even babies and toddlers.
8) Sweet, Sweet Love
OK, so I am a bit of a stationary junkie, so I adore this Personalised Candy Hearts Notebook. It comes form Getting Personal, who I've had quite a few things from, and I was delighted with the quality and the items were delivered quickly.
9) Guess How Much I Love You
The Guess How Much I Love You Lullaby Hare is based on possible the sweetest book about the love between a parent and a child. Ahhhhh!
10) Your Heart is in My Hands
For the child with a more quirky sense of humour, why not get them a Gross Science Beating Heart Kit so that they can make their own squelchy beating heart.
11) Love's Great Adventure
Give them something to aspire to with this Golden Arrow Adventure Heart Plaque.
About the Author: Jacqui O'Brien is the Editor of eParenting.